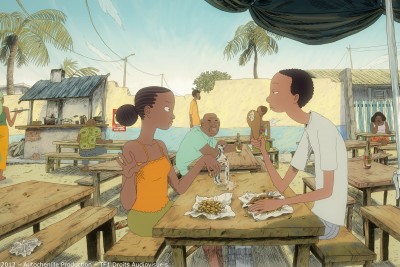 Wednesday 2 April 2014 8:30 pm
Cinema Lumière - Sala Mastroianni
Aya de Yopougon
by Marguerite Abouet, Clément Oubrerie – France, 2013
(84', DCP, Original version with Italian subtitles)
It is the late 1970s in the city of Abidjan in Côte d'Ivoire. We meet Aya, a very serious nineteen year old girl, who prefers studying to having fun. She lives in the working-class Youpogon quarter, it is nicknamed Yop City because it ''sounds more American.'' Aya spends her days at school, with family and with her two friends Adjoua and Bintou. Unlike Aya, her friends only think about fashion, hair and boys. Things become more complicated when Adjou finds herself pregnant. What should she do, tell her family or have an abortion? 
Director:
Marguerite Abouet
Nata nel quartiere di Youpogon, ad Abidjan in Costa d'Avorio, nel 1971, Marguerite Abouet è una scrittrice ivoriana, conosciuta soprattutto per il romanzo a fumetti Aya de Yopougon, pubblicato a partire dal 2005 in sei volumi. Attualmente vive a Romainville, un comune a est di Parigi, con il marito illustratore Clément Oubrerie. 
Clément Oubrerie
Born in Paris in 1966, Clément Oubrerie is French illustrator and other of many children's books. In 2005 he created, with Marguerite Abouet, the graphic novel of Aya of Yop City, for which he also curated the drawings for the subsequent volumes. His other work includes the comic adaptation of Zazie in the Métro (Zazie dans le metro), Raymond Queneau's novel. In 2007 he founded, along with Joann Sfar and Antoine Delsvaux, Autochenille Production, which produced the animated film The Rabbi's Cat (Le Chat du Rabbin).