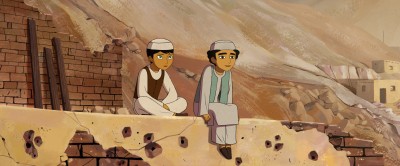 Thursday 31 May 2018 10:30 pm
Cinema Lumière - Sala Mastroianni
The Breadwinner
by Nora Twomey – Irlanda, Canada, Lussemburgo, 2017
(94', O.V. with Italian subtitles)
Parvana, an 11-year-old child, is raised under the Taliban government, in 2011 Afghanistan. When her father is unjustly arrested, the little girl disguises herself as a boy to be able to walk freely in the city and help her father.
From the bestseller The Breadwinner by Deborah Ellis and strongly wanted by the movie maker Angelina Jolie, The Breadwinner is the new big movie from Cartoon Saloon (Song of the Sea), a hymn to freedom, women and resistance, beautifully animated.
Oscar and Golden Globe nominee for best animated movie and winner of many other international prizes.
Director:

Nora Twomey
Creative director and cofounder of Cartoon Saloon, Nora Twomey supervises the development of the productions of the company. She directed the many times awarded short film From Darkness and Cuìlìn Dualach and played a central role in the making of The Secret of Kells and Song of the Sea, both Oscar nominees.