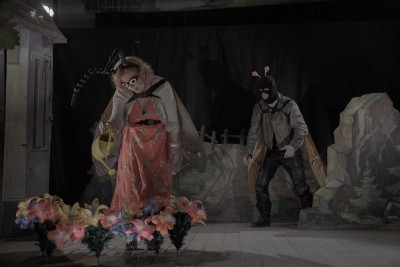 Tuesday 29 May 2018 12:00 pm
Cinema Lumière - Sala Mastroianni
Insects
by Jan Švankmajer – Repubblica Ceca, 2018
(98', V.O. With Italian subtitles)
A troupe of actors practice in a small city to set up the play by Capek, "The life of insects". Their lives will merge with the destinies of the play's protagonists.
The great master of Czech surrealism Svankmajer comes back with an ambitious and complex metafilm that shows all his mastery in the handling of stop-motion special effects that made him famous.
Director:

Jan Švankmajer
Born in 1934 in Prague, he's one of the most celebrated animators in the world. He made his first film in 1964 and is known for his surreal animations which have influenced artists such as Tim Burton, Terry Gilliam, the Brothers Quay. His creative diversity exceeds the limits of film: he is active in autonomous visual expression which he has practised since the end of the 1950s. His work, whether film, visual, or literary, is connected with the activities of the Czechoslovak Surrealist group.