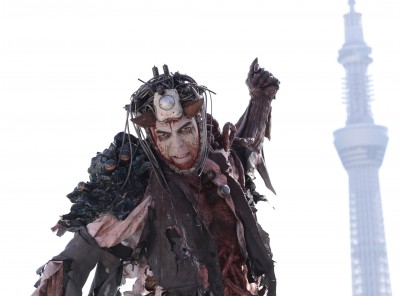 Saturday 2 June 2018 11:30 pm
Cinema Lumière - Sala Mastroianni
Meatball Machine Kodoku
by Yoshihiro Nishimura – Japan, 2017
(108', O.V. with Italian subtitles)
Yuji, a gentle tax collector, founds an unexpected new goal for his life when an alien life form invade his city which starts to possess little by little the unaware resident's minds. The aliens transforms the bodies of the hosts in monsters – the necroborgs. Yuji, affected by a terminal cancer which serves as a natural immunity, starts to mutate physically maintaining his mental consciousness, so he is ready to organize the offensive.
From the unforgettable director of Tokyo Gore Police, a new, crazy splatter delirium, for a can't-miss night of laughter and popcorn.
Director:

Yoshihiro Nishimura
Yoshihiro Nishimura (1967) is a Japanese director, screenwriter and special effects designer. He makes his debut in 1995 with the horror film Anatomia Extinction, for which he also works on makeup and special effects. He also works on films such as Suicide Club, Death Train, Noriko's Dinner Table, Meatball Machine and The Machine Girl. His second feature film, Speakerman: The Boo, is from 2004. In 2008 he directs the splatter film Tokyo Gore Police, which is awarded the Best Asian Film Prize at Fant-Asia Film Festival. In 2009, he directs with Naoyuki Tomomatsu the splatter horror film Vampire Girl vs. Frankenstein Girl.