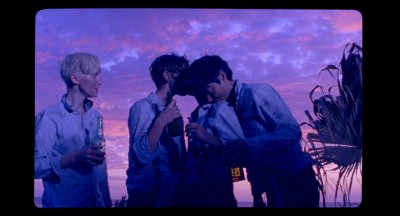 Thursday 31 May 2018 6:00 pm
Cinema Lumière - Sala Mastroianni
Les garçons sauvages
by Bertrand Mandico – Francia, 2017
(110', O.V. with Italian subtitles)
At the beginning of the XX century, on La Rèunion island, five teenagers from rich families fascinated by the occult commit a horrible crime. Their re-education is handled by the captain of a ship that has barbaric methods to bring the teenagers back on the high road. The five of them dream of a mutiny but what they don't know is that their transformation, that begun under the captain's watch, is destined to go over their wildest expectations.
The first feature film from a great director of experimental short films is a black and visually prospering fairy tale that reminds us of classics like Lord of the Flies and Night of the Hunter.
The movie won many international awards, like the award of the week by the critic in Venice.
Director:

Bertrand Mandico
Born in 1971 in Toulouse, he graduated from Gobelins animation school's cinematographic director program, in Paris. During the years, Bertrand cultivated his own aesthetic characterised by an interesting black humour that merges together macabre and burlesque elements. He enriched his cinematographic studies with in-depth studies on photography, collage and drawing and he made 40 short films, like spot and musical videos, that gave him various awards.