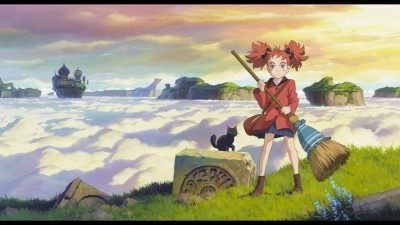 Friday 1 June 2018 8:00 pm
Cinema Lumière - Sala Mastroianni
Mary and the Witch Flower
by Hiromasa Yonebayashi – Giappone, 2017
(102', Italian Version)
Mary is a lively and happy girl, young and innocent, but her clumsy ways are making her life difficult. When she founds the prohibited flower, the "witch flower", Mary is dragged in an incredible adventure. May transforms herself in a witch using the flower's magical properties and begins to be admired and considered a girl with extraordinary powers. But the powers are just temporary. To keep a promise, Mary embarks on a journey to search for the truth, but it is then that she loses all of her witch' powers
The director Yonebayashi, already known for Arrietty and When Marnie was there, comes back to directing after the shutting down of Studio Ghibli, showing his talent even without his teachers Miyazaki and Takahata. Mary is his third, big strong and independent female character, in a big fantastic story about growth, defeat and rebirth.
Director:

Hiromasa Yonebayashi
Born in Japan in 1973, Yonebayashi works at Studio Ghibli from 1996. Main animator of Spirited away (2001), The Ghiblies – Episode 2 (2002) and Ponyo (2008), he also takes care of the short films for the Ghibli Museum. Evolution (2008, screenplay and direction) is one of the main attraction of the museum showed in Films Go Round. With Arrietty, his debut with an animated feature film, he became the youngest director produced by Studio Ghibli.