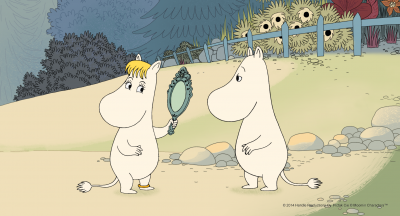 Tuesday 5 May 2015 10:30 am
Cinema Lumière - Sala Mastroianni
Moomins on the Riviera
by Xavier Picard – France-Finland, 2014
(80', DCP, Original version with Italian subtitles)
The Moomins, Snorkmaiden and Little My, in search of adventures, set sail for the Riviera, where, after a journey fraught with menacing storms and desert island dangers, Snorkmaiden is dazzled by the attentions of a playboy and Moomin learns that jealousy's sting is the most painful of all.
When Moominpappa befriends an aristocrat and adopts the name "de Moomin", an exasperated Moominmamma retires to the relative calm of thier trusty old boat, to wait for her family to come to their senses.
For the very first time, the unity of the Moomins is threatened.
Director:

Xavier Picard
French born writer, director and producer, Xavier Picard's prolific international film career includes over 300 hours of animation with i.a. Jean Chalopin (The Bot's Master), Hanna Barbera (Jonny Quest), Luc Besson and Mamoru Oshii (Valerian). Xavier's work has been distributed in more than 100 countries by Avi Arad, Bohbot Int., Nippon Animation, TF1 Int., and Freemantle Media. Xavier Picard directed seven animated short films for the French pavillon at the World Expo Shanghai 2010 and he was a faculty member of the prestigious CFT Gobelins Animation University in France.
In 2000, Picard co-founded Pictak with the Japanese Producer Takashi Masunaga. Pictak produces and co-produces animated films and series for markets all over the world. Pictak collaborates with animation studios in Japan, Korea, China, Taiwan, Canada, as well as with premier 3D and 2D studios in France. Some of Pictak's most notable co-productions include Marcelino, Odd Family and Valerian