The Satellite Girl and Milk Cow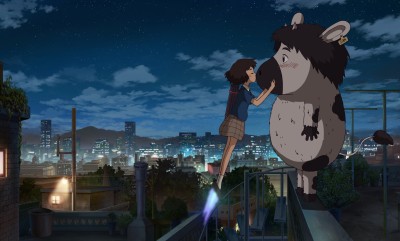 Wednesday 6 May 2015 10:30 pm
Cinema Lumière - Sala Mastroianni
The Satellite Girl and Milk Cow
by Chang Hyung-Yun – South Korea, 2014
(81', Original version with Italian subtitles)
Il-ho, the satellite 'KITSAT-1', is launched into space. She observes Earth over a long time and becomes curious about the human heart. Kyung-chun, an aspiring musician, is heartbroken and turns into a milk cow when his longtime love interest, Eun-jin, starts to date another guy.Then, one day, Kyung-chun is attacked by the Incinerator which tracks down those with a broken heart. At that moment, Il-ho falls from space and Kyung-chun is able to avoid immediate danger. With the fall, Il-ho becomes human by magical forces. Il-ho receives the help of Merlin the Wizard who has turned into toilet paper to find Kyung-chun, and she ends up staying at Kyung-chun's place.
Kyung-chun who is now a milk cow fears for his life as he is chased by the Incinerator and the organ trafficker Mr. Oh. But, Il-ho comes to his rescue whenever he is in danger. Gradually, the two become close and Il-ho begins to slowly understand the human heart. However, Il-ho realizes that she doesn't have much left to live.
Director:
Chang Hyung-Yun
Born in 1975, Gwang-yang, Jeollanam-do.
Graduated from Hankuk University of Foreign Studies, Dept. of Political Science and Diplomacy.
Graduated from Korean Academy of Animation Arts
Currently CEO of the animation studio NOWORNEVER.