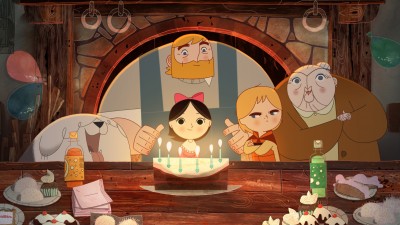 Tuesday 5 May 2015 8:00 pm
Cinema Lumière - Sala Mastroianni
Song of the Sea
by Tomm Moore – Ireland/Luxembourg/Belgium/France/Denmark, 2014
(93', Original version with Italian subtitles)
Song of the Sea is a 2014 Irish animated fantasy film by Cartoon Saloon that is directed by Tomm Moore. The traditionally animated film, which began production soon after the release of The Secret of Kells (2009), premiered at the 2014 Toronto International Film Festival on 6 September in the TIFF Kids program. The film was nominated for Academy Award for Best Animated Feature at the 87th Academy Awards (2015).
The story, based on the ancient Celtic myth of the selkie, concerns two children, Ben and Saoirse, who live in a lighthouse by the sea with their father, Conor, who remains distraught over the loss of his wife several years earlier. Though Ben is aware of the responsibility that comes with being a big brother, he is easily frustrated with Saoirse, who, at six years old, has yet to utter a single word. When Saoirse discovers a shell flute that used to belong to their mother, the spellbinding music she creates becomes both a means of communication and the key to a magical secret locked deep in their mother's past. One night Saoirse is led to the ocean by a group of smiling seals wearing a shiny, mystical coat. It is then revealed that she is a beautiful white Selkie—a mythological being that lives as a human on the land and as a seal underwater—who has a mission to accomplish. After they are sent to live with their granny in the city, Saoirse and Ben must work together to find their way home. Ben soon realizes that his sister holds the power to bring the ancient stories their mother told them to life—but in order to keep these tales alive, she needs to find her voice, and he needs to overcome his deepest fears. 
Director:

Tomm Moore
Tomm Moore was born in Newry, Northern Ireland, and studied animation at Ballyfermot College in Dublin. He co-founded the animation studio Cartoon Saloon and has written, produced, animated and directed short films and commercials. He directed the animated feature The Secret of Kells (2009), which was nominated for an Academy Award for Best Animated Feature. Song of the Sea is his second feature, and he also directed a short film portion of Kahlil Gibran's the Prophet.