Taiyō no ōji - Horusu no daiboken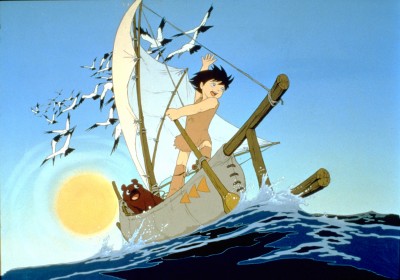 Wednesday 30 May 2018 4:15 pm
Cinema Lumière - Sala Mastroianni
The Great Adventure of Horus, Prince of the Sun
by Isao Takahata – Japan, 1968
(82', Japanese with Italian subtitles)
Hols, a boy without a mother, lives with his father and Koro, a small bear, in a wreck washed up on a remote beach in Norway. One day he is attacked by a pack of wolves that works for Monster Gunwald. When everything seems lost, suddenly a huge man made of stone appears and scares the wolves off. Hols, to repay him, helps the giant taking off a sword from his shoulder. The giant tells Hols the legend which tells that the man who will forge that unrefined blade will become the Sun Prince.
Translated literally to "The Sun Prince – Hols' great adventure", the movie is the first one directed by Isao Takahata, cooperating with master Yasuji Mori for the animation, and a young Hayao Miyazaki to do the depths. Even with the clear problems of a small budget and a difficult production, the movie, which wasn't a success with the public, is full of storytelling and style inventions, and anticipates the future masterpieces of the Takahata-Miyazaki duo.
Director:

Isao Takahata
Director, screenwriter, producer, and co-founder of Studio Ghibli with his friend and colleague Hayao Miyazaki. Praised by international critic for his amazing sensibility, he is considered one of the cornerstones of an entire way of doing animation. His interests in cinema history and studies of French literature met when, in 1953, La Bergére et le ramoneur by Grimault and Prèvert aired, which represents a true enlightenment for young Takahata, the starting point to explore all that animation can do.