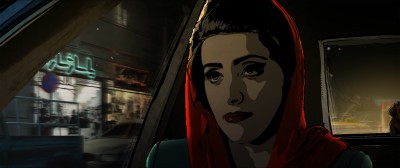 Wednesday 30 May 2018 8:15 pm
Cinema Lumière - Sala Mastroianni
Tehran Taboo
by Ali Soozandeh – Austria, Germania, 2017
(90', O.V. with Italian subtitles)
A lonely mother lives with his five years old mute son in Teheran. For paying the rent and the divorce from the convict husband, she works as a prostitute and as a nurse. She shares her secret with her pregnant neighbor, a bore housewife that looks after of her son but she also hopes to find a way out of her everyday life, always so ripetitive. In their same neighborhood lives a young music student destined to live a tragedy after a night spent with a virgin eighteen years old girl.
Recorded in a live action and then animated with the rotoscope,  Teheran Taboo is an hard and poetic slice of everyday life of poor Teheran people, defeated between the dulie of the Iranian society and the problems of the real world.
Director:

Ali Soozandeh
Born in Shiraz, Iran, he studied Arts in Teheran before to emigrate in Germany in 1995. After the transfer he receives the diploma in Media Design by the Technica università of Colonia.
He works like animator for movies and television, directing music video and other short films and he founds his company Cartoona – Moon.