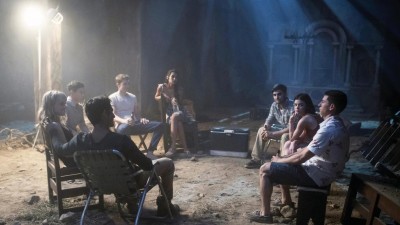 Sunday 3 June 2018 2:00 pm
Cinema Lumière - Sala Scorsese
Truth or Dare
by Jeff Wadlow – United States, 2018
(100', O.V. with Italian subtitles)
A group of friends, one night, plays "Truth or Dare". It looks like the time for innocent plays until the game doesn't show itself as a mortal danger, because someone -or something- begins to punish who tells a lie or refuses to do the dare.
Directed by Jeff Wadlow ("Kick-Ass 2"), the thriller has Lucy Hale ("Pretty Little Liars") and Tyler Posey ("Teen Wolf") as the main characters, with Violett Beane, Hayden Szeto, Landon Liboiron, Sophia Taylor Ali and Nolan Gerard Funk as side characters.
"Truth or Dare" is the new supernatural movie by Blumhouse Productions ("Happy Death Day", "Get Out", "Split") founded by Jason Blum in 2000. The production society has one success after another with movies where the cost usually does not go over 5 million dollars (the budget for "Truth or Dare" is of 3,5 million dollars) and where the revenues usually go around 90 millions. "The secret to success is to spend less and gain more -says Blum- investing a limited budget in each movie, we cannot maintain the maximum creative freedom of writers, because even if this goes wrong the loss would be contained" and the recipe always works.
Director:

Jeff Wadlow
Born in Arlington, Virginia, he goes to Dartmouth College and the year after to the University of Southern California of Cinema-Television. With the short film The Tower of Babble (2002) he receives more than two dozen of awards, including the one for best short film at the international festival of independent videos of New York. He also performed as an actor in the movie Pearl Harbor (2001) and in the television series Rosewell (2001). He directs the movie Never Back Down (2008) and Kick-Ass 2 (2013).