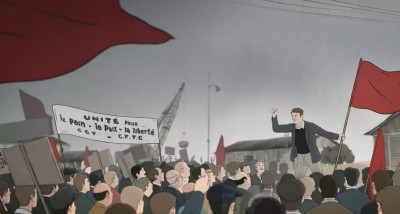 Tuesday 29 May 2018 2:15 pm
Cinema Lumière - Sala Mastroianni
A Man Is Dead
by Olivier Cossu – Francia, 2017
(66', O.V. with Italian subtitles)
Brest, 1950. The city is in full rendering as a result of war bombings. During a demonstration for claiming better living - wage conditions, the situation with the law enforcement degenerates taking to the death of the young Éduard Mazé hit in the head. René Vautier, a communist activist film maker evidences the workers situation with the collaboration not always easy of the young Zef and Désiré and Eduard's childhood friends. Once the film is finished, Eduard improvises a sort of traveling cinema projecting the images on the building sites and in the picketing place of all the Brittany. The movie will instill a new impulse to the fight.
ARTE realizes a great social movie, adaptation of the same name comix of Chris and Etienne Davodeau that highlight the figure of the director René Vautier, unfairly forgotten by the historry of the cinema.
Director:

Olivier Cossu
After his Visual Arts studies, Oliver Cossu starts to compose and direct advertising spots and music video. In 2014 he realizes the documentary film La Face Cachée du Pop- up, that contains many animated sequenze.