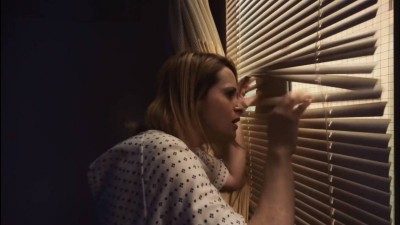 Tuesday 29 May 2018 8:00 pm
Cinema Lumière - Sala Mastroianni
Unsane
by Steven Soderbergh – United States, 2018
(98', O.V. with Italian subtitles)
Sawyer Valentini (Claire Foy) is a businesswoman forced to leave Boston to escape the threat of David Strine (Joshua Leonard), a stalker that keeps harassing her. Traumatised, Sawyer lives every relationship with anxiety and suspicion, but when she turns to a psychiatric clinic the therapist deceives her, making her sign documents committing herself to spend 24 hours in the hospital's psychiatric ward: in the structure, Sawyer finds the stalker again, that changed his identity.
In 2013 Steven Soderbergh announced his goodbye to cinema with the psychothriller "Side Effects", this self-exile from the big screen ended last year with the criminal comedy "Logan Lucky", but it is "Unsane" that shows the purpose of the author of taking alternative production and distribution routes that aren't Hollywood. To the question if a film like this, fully shot in a fast and "grainy" way with a smartphone, is the future of cinema, Soderbergh answered: "If it is the only future, I do not know. It surely is a direction, a phase of transition. There is no doubt that the iPhone today helps translating in cinema a history in the visual reality of the most worldwide used tool. The rendering is intense, hyper realistic, and surely a filter that we still have to get used to see on the big screen. I can talk for myself: this new cinematographic medium will change my way of doing cinema".
Director:

Steven Soderbergh
American director, screenwriter and movie producer. Palme d'Or winner at Cannes Film Festival for the movie Sex, lies and videotape, with which he also receives an Oscar nomination for best original screenplay. In 2001 he receives a double Oscar nomination for best director of Erin Brockovich and Traffic, winning it for the last movie. Among the many movies he directed, the most famous ones are The good German, Ocean's Twelve, Ocean's Thirteen, Magic Mike and Side effects. On TV he directed the acclaimed movie Behind the Candelabra and the TV series The Knick.