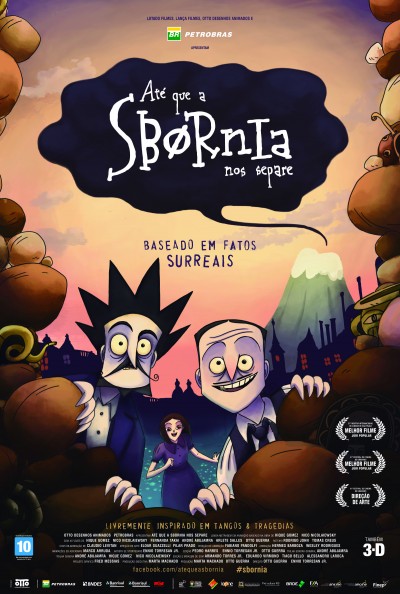 Wednesday 6 May 2015 8:30 pm
Cinema Lumière - Sala Mastroianni
Until Sbornia Do Us Part
by Otto Guerra – Brasil , 2013
(93', Original with Italian subtitles)
What happens to a small country when the wall that separates it from the rest of the world falls? The events that follow the accidental fall of the wall that isolated Sbórnia from the Continent strike the people from the peaceful and far distant land with the winds of a modern city. The conflicts caused by the violent cultural shock mess up the lives of our protagonists Kraunus and Pletskaya – two odd Sbornian musicians. As a result of continental interference on their habits, some Sbornians are reminded of forgotten believes, so as to stir them up to rescue their identity.
Director:

Otto Guerra
Otto Guerra created in 1978 his own company Otto Desenhos Animados aiming producing animated films. Before of this date Otto worked in production for propaganda. After 5 years of work the necessary structure was established and in 1983 Otto Guerra produces his first animated fil , which premiered at the 1984 Festival de Gramado , being very well received by the public and by jury. From there he gradually moves from advertising production to production of fiction, and in recent years this has focused the attention of the company .

During over 30 years dedicated to animation in Rio Grande do Sul, Otto Guerra became a very important person in the creation of the RS Core Animation, linked to the Department of Culture and the State Institute of Cinema ( Iecine ) paving the way for the emergence of a real ' school ' gauchos animators . The trajectory of Otto Desenhos Aniamdos, which coincides with the trajectory of Otto Guerra himself, resulted in the realization of 10 short films and three feature films. These films have received numerous awards in national festivals and abroad and have been selected in various international events.

Otto Guerra also participated in co -productions in Brazil , Portugal , Sao Tome and Principe and Germany . Establishing partnerships with UNICEF , World Bank , UN , Maurício de Sousa , Renato Aragão , Ministry of Health (Ze Gotinha for film) , among others . Besides screenwriter, animator, producer and director of several films , Otto Guerra also taught various animation workshops throughout Brazil and has participated as a juror in several film festivals in the  country.