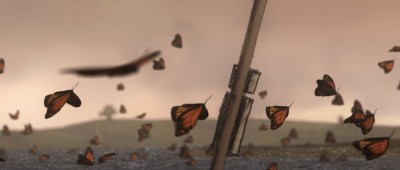 Wednesday 30 May 2018 6:15 pm
Cinema Lumière - Sala Scorsese
Where It Floods
by Joel Benjamin – United States, 2017
(47', V. Originale con sottotitoli in italiano)
In a world ruined by climate disasters, Calvin, his wife Patty and their son Kenny, try in all the way sto save their farm, positioned in a landscape inundate in the Midwest of America. All their neighbor are emigrated, bu Calvin and his family don't want to renounce to their roots, whatever it takes.
Animated in cut – out animation and self produced with few money, a small but great movie on the obstinacy, the memory, the feeling of guilty and the selfimposed blindness.
Director:

Joel Benjamin
Joel Benjamin, awarded animator and director of short films and full-lenght films, in 2007 he creates the company Electricbeard Production, recently nominated to the Emmy. He works like motion designer for commercial products of notable creativity and he teach animation 2D and 3D in the SAIC and DePaul Universities.