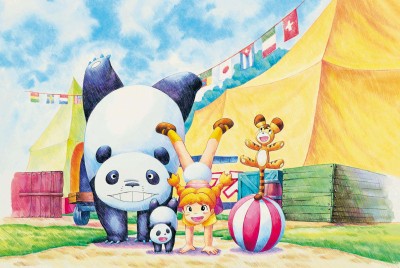 Saturday 2 June 2018 8:15 pm
Cinema Lumière - Sala Mastroianni
Panda! Go, panda!
by Isao Takahata – Japan, 1972
(79', Japanese with Italian subtitles)
After her grandma's leaving, little Mimiko finds herself living alone in her cottage near a bamboo pond. One day, Panda Dad and his son Pandy decide to escape from the zoo and, drawn by the thick grove of the cottage meet sweet Mimiko, with whom to share incredible adventures that will involve their new circus friends too.
In full Ghibli style, the setting where the protagonists live is the mirror of a past era, where everything looks timeless and that captivates with intelligence both kids and grown-ups, with a sweet and relaxed atmosphere.
Director:

Isao Takahata
Director, screenwriter, producer, and co-founder of Studio Ghibli with his friend and colleague Hayao Miyazaki. Praised by international critic for his amazing sensibility, he is considered one of the cornerstones of an entire way of doing animation. His interests in cinema history and studies of French literature met when, in 1953, La Bergére et le ramoneur by Grimault and Prèvert aired, which represents a true enlightenment for young Takahata, the starting point to explore all that animation can do.